Is it safe to pay?
The short answer is yes. In Sweden, we see a trend that card fraud and false cash in the loop are decreasing. Does that mean that it's all good? No, instead, the criminals have made a shift in focus. Today, they put their energy into creating digital tools that can be used on alternative payments or digital signage. In Sweden, we have seen several frauds where Swish or Bank-ID have been used as enablers. It's pretty easy for anyone to buy software or applications that can be used in this sort of fraud.
How it's done – simplified
Swish had a peak of frauds before the summer. National media reported a large number of merchants that had been exposed and fooled by a fake app. The trust for Swish got a big hit, and some merchants actually removed Swish as a payment option for some time. This had a negative impact not only on the victims and Swish but also on the trust for alternative payment methods in general.
---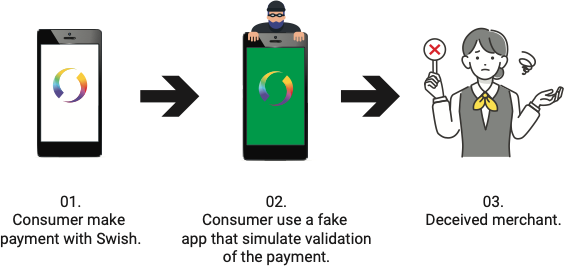 ---
Safety First
Swish, and other involved parties have learned an important lesson. As providers, we always need to have a process where the validation is visualized securely and which cannot be tampered with. Both consumers and merchants need to get a safe and trustworthy approval. In the future, maybe soon, I imagine that there will be several ways to validate— both instore and online. But now, since we just learned how to walk, we must walk the extra mile regarding security and safety.
Our response
At Westpay, being compliant and supporting the strict regulations from PCI and others, makes us always put security in the first room. Our legacy with card present (i.e. in-store) payment solutions gives us the mindset necessary whenever we develop new features. A mindset we bring with us when we innovate next-generation Integrated Commerce payment solutions.
---

---
Whenever a payment is made through our systems, Westpay makes the necessary requests before validating the on-going payment. This way, both the consumer and the merchant can be safe, knowing that everything is alright and the money ends up where it is supposed to be.
Now that's what I call good customer experience...
---
Published augusti 29, 2022