Klarna and our in-store solution is the perfect match.
Klarna In-store
Westpay and Klarna is the perfect combination for your customers. Our payment application allows your customers to choose between several payment methods. With just a swipe, they enable the full power that Klarna offers. Save time and level up your conversions thanks to this perfect combination of innovation.
Klarna allows shoppers the flexibility to pay now or later for purchases by providing seamless, interest-free instalments or financing to consumers. When a consumer wants to pay with Klarna, the terminal simply displays a QR code that is scanned by the consumer's phone. The customer then completes the transaction with Klarna directly on their phone, and the order is confirmed in the terminal.
Offer more options to pay.
Pay Now
Pay now goes straight to the point, giving your customers the option to pay today by completing secure bank or card payments. Pay now is designed to increase conversions by letting your customers make safe payments in seconds.
Pay in 30 days - Interest-free!
Pay in 30 days is designed to make shopping easier for your customers. By offering them an opportunity to try before they buy, you're increasing checkout exibility – creating more business for you.
Financing
Financing gives your customers an opportunity to spread their cost over time. And pay at their own pace.
Always with Klarna.
Boost your business with Klarna.
Increase conversion, customer loyalty and boost your average order value by offering more ways to pay in-store. By offering Klarna in your terminal, your customer doesn't need to bring their physical card, instead, they only need to have their phone ready at hand.
Access to the Klarna shopper network.
Klarna has millions of customers worldwide, with over 94% of transactions coming from returning customers. Attract these customers and keep them coming back.

Zero risk.
Receive payment upfront while customers pay later. Klarna takes the whole fraud and credit risk so you can focus on creating a memorable customer experience without worry.
Get started with Westpay & Klarna
Let us know if you are looking for some guidelines how to implement Klarna. We are standby ready to answer any question.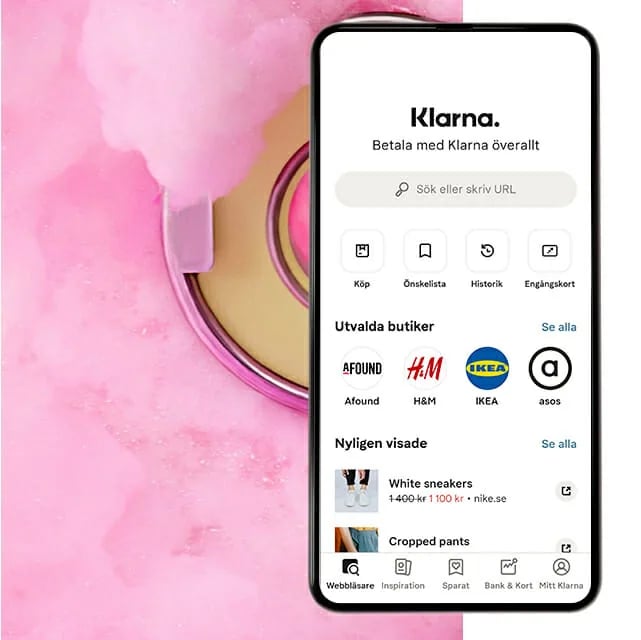 About Klarna.
Klarna is the leading global payments and shopping service, providing smarter and more exible shopping experiences to over +90 million active consumers across more than 250,000 merchants in 17 countries. Klarna offers direct payments, pay after delivery options, and instalment plans in a smoooth one-click experience that lets consumers pay when and how they prefer.
Klarna was founded in 2005 in Stockholm, Sweden, with the aim of making it easier for people to shop both in-store and online. In the last 15 years, technology has evolved and transformed the world around us, yet Klarnas's mission remains as relevant as ever, to make paying as simple, safe, and above all smoooth as possible.
Need help? No worries. We help you all the way.
Fill out the form and we will contact you shortly.